Klara Galena is the deuteragonist in the series,she is Terralion and Akasha's childhood friend and first love.
                        Klara Galena

Info
Kanji Name
クララ ガリーナ
Romaji Name
Kurara Garīna

Nicknames

Klara
Goddess of Spirit
Miss(Akasha)

Gender
Female
Age
Status
Alive
Date of Birth
December 5

Affiliations

Student

Magic User

Scarlet Heart(previous)

Team

Scarlet Hart Dark Forces(previous)
Akasha's team
Garanzia(previous)

Harmony&Friends(current)

Weapons

Whip

Threads

(to summon spirit)

Magic

Spirit Summoner&Doll Controller

Type

Spirit(+Healing)

Blood Type
B
Height
156cm(begin)

159cm

Weight
48kg
Family

Hobby

Playing
Partner

Dislikes

Fighting
Appearance
[
]
Klara has a dark purple hair.She has hime-styled bangs and wore a 2 pigtail.She has a light blu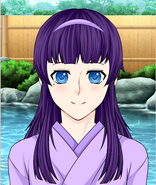 e eyes and moles on her left upper- cheek.She often wore her school uniform and her necklace,that is her birthday gift from both Terralion and Akasha.What is unusual about her appearance is that she always bring her pet,Usagika.
At battle,she wore a miko outfit,and her hair is left down but there are 2 short-round pigtails.
2 years after Scarlet Heart's defeat,her hair styled like her battle hairstyle,and wear bandage.
Personality
[
]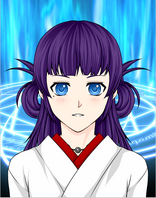 Klara was a gentle,beloved kind hearted girl,she always been the center of her friends (stated by Terralion).It is revealed that Klara's wish is to play with her friends peacefully without interrupted.
But,after she's kidnapped,Klara didnt gain her freedom and changed into a closed,calm and quiet.Klara killed people and other crimes because she particularly believes in following orders of the king of Scarlet Hart so that he will give freedom to her and Akasha.Sometimes she could be really cruel if needed to,however she can't be cruel to people that she cared.Klara also fear of the lady of Scarlet Heart.
After Scarlet Hart's defeat,she much like her old-self even she still calm.
Klara is more lady-like and adress people with (-san) to respect them.She used to hold feelings for Terralion but she throws it.She admired Akasha and dont want to lose him.
History
[
]
Relationships
[
]
Magic
[
]
Quotes
[
]
Trivia
[
]
Klara's magic rank is B
Galena means curing