Akasha Antonio is one of the antagonists at Scarlet Heart Battle Arc,and a supporting character afterwards.
                     Akasha Antonio

 

Info
Kanji Name
アカシャ アントニオ
Romaji Name
Akasha Antonio

Nicknames

Akasha
Aka-kun(Klara)
Red Hood Guy
Red Warrior

Gender
Male
Age
Status
Alive
Date of Birth
August 28

Affiliations

Student

Scarlet Hart(previous)

Magic User

Team

Harmony&Friends

Scarlet Hart(previous)

Akasha's Team

(Leader)

Weapons

Magic

Type

Lost Magic
Height

163cm(begin)

166cm

Weight

51kg(begin)

53kg

Family

Unknown Man

(father)
Unknown Girl(Step-sister)

Hobby

Sports,Fighting

Likes

Battles,RPG Game
Partner
Appearance
[
]
Akasha has a sacarlet hair,yellowish skin and dark green eyes.His eyes has no pupil.He wore his Fluire Gakuen uniform.
2 Years after Scarlet Heart's defeat,he has messy spiky red scarlet hair and have slanted dark green eyes.He had a scar under his right eye,because protecting Harmony&Klara from the King.
He always showing a playful and mysterious smile.
Personality
[
]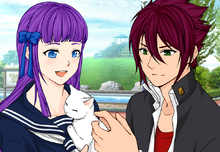 Akasha only care little about his surroundings,if its about mission or about Klara&Terralion.At first,Akasha is quite cold and apathetic, not hesitating to injure his own allies if irritated with smiling.Towards his enemies,he is confident,cruel, bloodthirsty, and enjoying see them suffering.
Akasha is a short tempered person,fights with Terralion because not-important thingies,actually he admired Terralion.Although he is cold person,to those whom he close with,he shows a protective side and often teasing them.
He always be too protective to Klara,going anywhere she goes.Akasha even goes to save Klara's doll from death.Akasha admit that his dream is to see Terralion's growth.
Akasha shows a love for animals,having at least 30 different animals pet in his own room,the animals also follow his orders.
History
[
]
Relationships
[
]
Magic
[
]
Quotes
[
]
To Terralion:("Keep on living,Dont Cry,Don't Get in the Darkness!Terra that I know is the most brave person that I know!")
Thoughts when he lose on Terralion:("I,only wished to see your growth,are you a fine man or a bad man?i'm sorry for destroying your happy childhood and im sorry for gone.")
Trivia
[
]
Unlike most of Scarlet Hart members that have dark magic,he has a lost magic.
Akasha's dream is to be a boxing champion.